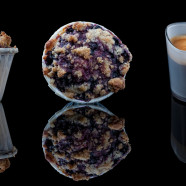 A blueberry muffin – a little delight to accompany an afternoon tea or coffee.
20 pieces
Hazelnut Crumble:
40 gr ground hazelnuts
50 gr moist brown sugar
85 gr plain flour
1 pinch salt
Mix the ground hazelnuts, brown sugar, flour and a pinch of salt.
65 gr butter, softened
Add the butter and rub it in with your fingers until the butter is incorporated.
Preparation / 10 min
The pastry will become crumbly.
Rest 1 hr
Let rest 1 hr in the refrigerator.
Blueberry Muffins:
Preheat the oven to 180 °C.
6 eggs
220 gr sugar
Beat the eggs and sugar together until creamy.
260 gr plain flour
1 tsp baking powder
130 gr butter, softened
1 Tbsp orange blossom water (optional)
Gently stir in the flour and baking powder, then the soft butter and orange blossom water.
Fill muffin cups to 3/4 full with batter.
100 gr blueberry jam
Drop a teaspoonful of blueberry jam into the middle of the muffin batter.
150 gr fresh or frozen blueberries (take them out of the freezer 30 min. before using)
1 Tbsp flour
Mix the flour with the blueberries. Then add 1 Tbsp of blueberries to each muffin.
Cover with hazelnut crumble.
180 °C / 25 min
Preparation 15 min
Place the muffins on a tray and bake in preheated oven for 25 min.
The crumble will turn golden brown and crunchy on the well-risen muffins.