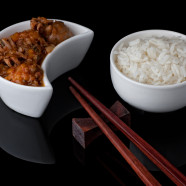 A dish from the south of France which extols summer.
serves 4
The Vegetables
2 spring onions
2 small carrots
5 cloves garlic
Peel and cut off the tops of the green onions keeping 5cm of stalks and cut into small rounds.
Wash and peel the carrots and grate coarsely.
Peel the garlic, remove the germ and mince.
3 Tbsp olive oil
In a non-adhesive frying pan, sauté the vegetables in olive oil.
Preparation / 10 min
Low heat / 7 min
Young Squid:
1.2 kg fresh squid
Wash the squid. Remove the skin. Clean the heads by removing the beak, bone and cartillage. Let drain.
Preparation / 15 min
3 Tbsp olive oil
Heat 3 Tbsp olive oil in a cast iron pot over high fire. Add the squid and cook 12 min, stirring often till they are roasted gently.
High heat/12 min
2 Tbsp fennel seeds
Salt, mixed ground pepper
1 litre pureed tomato
2 sprigs fresh thyme
Add the fennel seeds, mix well and let cook another 2 min. Season with salt and pepper.
Add the vegetables, the pureed tomatoes and thyme sprigs and mix. Cover and let simmer 30 min over low heat.
Low heat / 30 min
Salt, mixed ground pepper
Espelette pepper
Uncover and let the sauce reduce 10 min over medium heat. Add salt, mixed ground pepperand and the Espelette pepper according to your taste.
Medium heat / 10 min
Remove the thyme sprigs before serving. Serve with basmati rice.