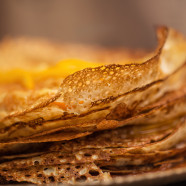 Millefeuille of crepes with candied orange and Grand Marnier sauce – a dessert to succumb to.
The day before
4 organic oranges
Wash the oranges. Cut them in half and extract the juice.
Water: 500ml Orange juice + water
300g Arcacia honey
Add water to the orange juice to obtain 500ml of liquid and put this in a pan. Set aside.
Meanwhile, remove the surplus pulp from the oranges and using a sharp knife, cut the peel into fine strips lengthwise. Set aside.
Bring the orange juice-water mixture to a boil over medium heat. Skim, reduce the heat and add the sliced peel. Let simmer 20 minutes.
Preparation / 20 min
Medium heat / 5 min
Low heat / 25 min
Add 180 ml Grand Marnier and let simmer another 5 minutes. Remove from heat, let cool and keep in the refrigerator until the next day.
To prepare 1 hour before using
120 gr butter
Over low heat, melt the butter in a small pan. Let cool before using.
Low heat / 5 min
300 gr flour
100 gr castor sugar
1 Tbsp vanilla sugar
a pinch of salt
In a mixing bowl, mix the flour, sugar, vanilla sugar and salt.
5 whole eggs
700 ml whole milk
125 ml lager beer
Add the eggs, milk and beer. Mix well.
melted butter
1 sachet baking powder
Then add the melted butter and baking powder.
Puree with a hand blender till creamy and smooth.
Preparation / 10 min
Rest in refrigerator/ 1 hr
Let the batter rest in the refrigerator for 1 hr.
1 tsp butter per crepe
Melt a small teaspoon of butter over high heat in a non-stick frying pan with high rim (without burning the butter). Spread the butter around the pan with a paper kitchen towel.
When the pan is hot, put a ladleful of batter into the pan and swirl to cover the entire base and side.
Let cook 1-2 minutes before turning the crepe over using a spatula. Then let cook the other side for a further 1-2 minutes.
High heat / 1-2 minutes per side
The crepe is cooked when it is golden. The edges should be paper thin, crispy and fragile and the center of the crepe soft.
Preparation / 25 min
Put the finished crepe on a platter. Sprinkle with 2-3 Tbsp Grand Marnier scented orange juice making sure that the edges are not moistened. They should remain crispy. Scatter 1 Tbsp orange peel over the crepe.
Procede in the same manner with the following crepes until there is no more sauce or orange peel. Serve within the following hour by cutting pieces of cake.