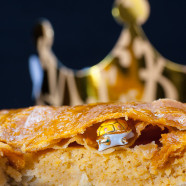 Kids love this Joyous King Cake the whole year and is a lot of fun for the whole family!
serves 8
Pastry Creme:
25 cl whole milch
1 vanilla bean
Cut vanilla bean in half lengthwise.
Bring milk with vanilla bean to a boil.
Remove from heat and allow to soak for 10 min.
3 egg yolk
2 tbl spoons acacia honey
2 tbl spoons starch
Whisk up egg yolk with honey until obtaining a creamy consistence. add starch and mix
Using the tip of a knife, strip down vanilla bean on a wooden board, add seeds to milk.
Preparation time / 15 min
Medium heat / 5 to 10 min
Using medium heat combine vanilla milk with yolk honey mixture in a pot, stir constantly till slightly thicken.
Remove from heat, leave to chill.
Almond Creme:
80 grams soft butter
3 tbl acacia honey
130 grams ground almonds (premium quality)
3 eggs
3 tbl rum
1 tbl starch
Using a wooden cooking spoon combine butter and honey. Add almonds, starch, rum and eggs to a smooth mixture.
Preparation time / 5 min
Filling Crème :
Combine pastry creme with almond creme and refrigerate.
Flaky Pastry Pie :
from a confectioner get 2 round slices of flaky pastry (puff pastry, 30cm)
1 nut size of soft butter
1 tbl acacia honey
Cover baking sheet with grease parchment paper, put one slice of puff pastry on top. Using a fork broach pastry.
4 peeled pears
1 little figurine (porcelain figure)
cut slices of 2 mm (3 cm away from the edges) spread evenly. Put figurine on top.
Cooled Frangipane Cream
Cover pears with the refrigerated filling creme.
Moisten the border of the pastry, top with second round of puff pastry and press down the edges to seal.
1 Tbsp acacia honey
Brush the pie with acacia honey. Using the tip of a knife, score lines across the pie. Prick the galette with a fork.
Preparation/ 10 min
Rest in refrigerator/ 1 hr
Put the pie in the refrigerator for at least 1 hr
Preheat the oven to 180°C.
Bake the pie for 45 minutes.
When the top is golden, turn the pie over onto another tray covered with buttered parchment paper.
Brush the top with honey and bake again till golden.
180°C / 45 min
Let stand 1 hr before serving
After removal from the oven, let stand at room temperature for 1 hr before serving. The warm pie is delicious and flaky.
For a traditional french Galette des Rois, follow the same instructions omitting the pears.
The pies are always more delicious when warm. If the pie is cold, warm in the oven for 10 minutes before serving.
The one who gets the piece with the little porcelain figure is the 'king'. One of the kids sits under the table and appoints who gets the next piece – that increases the tention and is a lot of fun!