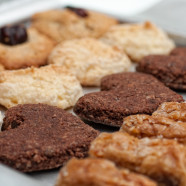 These brunsli cookies are my favourite! Chocolate and chewy with just a hint of cinnamon and cloves – what a delight.
Prepare the day before baking :

3 egg whites
250 g icing sugar
1 tbs vanilla flavoured sugar
Beat the egg whites and sugars until stiff peaks form.
300 g powdered almonds
200 g grated dark chocolate
50 g bitter powdered cocoa
1 level tsp cinnamon
1 level tsp powdered cloves
3 tbs Kirsch
Add the powdered almonds, the grated dark chocolate, the bitter cocoa, the cinnamon, the powdered cloves and the Kirsch.  Mix dough till all ingredients are well blended.
50 g crystallized sugar
Sprinkle the crystallized sugar on work surface.  Roll out dough on sugared surface, about 4 mm thick.  It may be easier to cover the dough with parchment paper and then roll it out.
With a 2.5 or 3 cm heart-shaped cookie cutter, cut out cookies.
20 g soft butter to grease baking parchment paper.
Cover baking sheet with the buttered parchment paper and place heart shaped cookies – cookies should not touch each other.
Leave as is overnight.

The next day

Preheat over to 200 C.
Bake cookies for 5 minutes – maximum.  Do not leave in oven after cooking time, as they will dry out and will not be chewy.
Remove from oven – set aside on rack and let cool.
These cookies can be kept in cellophane bags or a tin box.