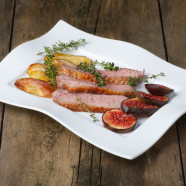 Potatoes cooked with lemon thyme will accompany the caramelized duck to perfection. A lovely way to finish the Summer or to welcome Autumn.
Serves 2
Preheat oven to 200 C.
1 tbsp olive oil
Line a large dish with olive oiled parchment paper.
1 large duck cutlet – 450 g (magret de canard)
2 tbsps of Acacia honey
Brush both sides of the duck cutlets with the Acacia honey.
Set the cutlet meat side down (skin side up) on the greased paper
Ground pepper : black, green and pink, salt
Sprinkle with salt and pepper.
Bake in oven for 18 minutes.
3 Mission figs
Slice the figs about 4 mm thick.
Preparation time / 5 minutes
Oven temperature / 200 C – 18 minutes
Half way through the cooking time, baste the duck with pan juices, and spread the sliced figs around the duck breasts. Return to oven to finish baking.
Remove from oven, slice the duck breasts lengthwise in 6 mm slices, add the pan juices and arrange the caramelized fig slices around the duck.
The meat will be very tender, juicy and pink, the skin will be crusty and delicious and the figs will compliment both beautifully.