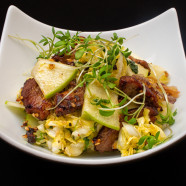 This cabbage salad makes a refreshing starter between winter and spring. The subtile acidity of the Granny Smith apples and lime lend a striking contrast to the caramelised pork.
10 small-sized glasses
1 chinese cabbage approx. 1 kg
Wash the cabbage. With a knife, finely chop the leafy part of the cabbage to obtain 600 gr of cabbage. Put this into a large salad bowl.
3 sprigs of fresh mint
Wash the mint, pluck off the leaves, cut finely and add to the cabbage.
2 handfuls Lady's Smock (cardamine pratensis), a wild herb
Wash the herbs and add to the above ingredients.
1 lime
Juice the lime and add to the cabbage.
6 tablespoons olive oil
3 tablespoons white balsamico
3 teaspoons wasabi paste
Add the olive oil, white balsamico and wasabi to the above.
2 teaspoons fleur de sel
freshly ground mixed pepper
1 teaspoon Espelette chili
Season with salt, ground mixed pepper and Espelette chili. Mix well.
1 Granny Smith apple
2 tablespoons toasted sesame seeds
Wash the apple, cut into eigths, remove seeds. Cut into small, fine cubes with a knife. Add these together with the sesame seeds to the salad. Set aside.
Preparation/ 15 minutes

Fried onions:


3 red onions
Peel the onions, cut into half and mince finely.
1 tablespoon flour
Mix the onions with the flour in a freezer bag. Close and shake well till the onions are well coated.
3 tablespoons olive oil
salt
Add the olive oil to a non-stick pan. Heat over low fire, then sauté the onions. Let them turn golden brown and crispy. Remove from the fire, season with salt and set aside.

Caramelised Pork:


600 gr Pork Shoulder Blade (Boston Butt)
Using a knife, cut the pork into strips 3cm wide, then into fine slices along the grain.
2 tablespoons olive oil
1 tablespoon acacia honey
1 tablespoon Teriyaki sauce
Pour the olive oil into a non-stick pan. Sear the meat on high heat. When it starts to turn colour, add 1 big tablespoon of acacia honey and one tablespoon of Teriyaki sauce. Leave to caramelise, then mix well. Remove from fire.
1 tablespoon roasted sesame seeds
salt
4 turns on the grinder of mixed pepper
Season with salt and ground pepper. Then add the sesame seeds and mix well.
Preparation/15 min
High fire/10 min

The small bowls:


Cabbage salad
Mix the cabbage salad well, adjust the seasoning according to your taste. Put 2 to 3 tablespoons of salad in each small bowl.
Caramelised pork
Fried red onions
Add 1 tablespoon of caramelised pork in each smal bowl and top with 1 teaspoon of fried onions.

Decoration:


Sesame seeds
1 mint leaf per small bowl
a few leaves of Lady's Smok
Decorate each small bowl with a sprinkling sesame seeds and mint leaves. Serve immediately.