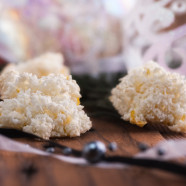 These lemon zest macaroons are easy to prepare and always appreciated during the Christmas season.
Makes about 70 cookies
4 egg whites
Beat egg whites till firm peaks form.
190 g  ( 1  1/2 cups ) of icing sugar
1 tbs  vanilla flavoured sugar
Gently blend in icing sugar and vanilla flavoured sugar.
250 g. ( 3 cups ) grated coconut
Zest from one fresh lemon
Add the grated coconut and the lemon zest and mix well.
Set aside in refrigerator for 1 hour.
Preheat oven to 150 °C ( 300 °F )
30 g ( 2 tbs ) soft butter to grease parchment paper
Cover baking sheets with buttered parchment paper.
( 2 baking sheets will be required for this quantity of macaroons )
With moistened fingers, shape dough into little balls, the size of a walnut and place on buttered parchment, about 3 cm (1 inch) apart.
Preparation time / 10 minutes
Resting time fridge/ 1 hour
Oven temperature:  150 °C – 300 °F / 12 minutes
Bake for about 12 minutes, till edges become golden.  Do not over-bake – macaroons should be soft and chewy inside, yet crispy / crunchy on the outside.
Set aside on rack to cool.
These macaroons may be kept in cellophane bags or in a tin box.