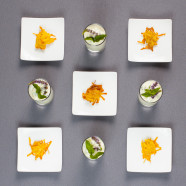 A wonderfully fresh summer hors d'oeuvres.
4 small plates or 12 small glasses
Cream of Cucumber
3 sprigs of fresh coriander
3 sprigs of fresh mint
10 blades of chives
1 sprig of Italian parsley  (flat parsley)
Wash herbs. Remove leaves from coriander, mint and parsley.
Chop chives.
500 grams white cheese with a fat content of 40%
Juice of 1/2 fresh lemon
Mix cheese, herbs and lemon juice in blender. 
Salt, mix of 3 peppers, Espelette pepper
 Add salt and peppers as required.
1 small cucumber (approx. 300 grams)
Peel cucumber, and shred coarsely. 
 
Blend cheese, herbs and lemon to shredded cucumber.  Test for seasoning (salt & peppers). Chill in refrigerator for at least one hour.
Prep. Time / 15 minutes
Refrigerate / 1 hour
 
Roasted potato galettes
4 Marabel potatoes (approx. 600 grams)
Peel potatoes, rinse and pat dry.
 
Shred coarsely. 
1 egg
1 teaspoon salt
In large bowl combine shredded potatoes, with whole egg and salt.  Blend well and set aside 10 minutes.
Prep. time / 15 minutes
 
 
Preheat the oven 180°C.
a dribble with olive oil
Cover a large baking sheet with parchment paper, and dribble with olive oil.
 
Scoop up by hand, about the size of a Walnut of the shredded potatoes, and squeeze to extract all the liquid, then deposit these little mounds on baking sheet side by side.
a dribble with olive oil
Drizzle with another measure of olive oil.
Prep. time / 15 minutes
 
Oven temp. 180 °C / cooking time  15 minutes per side
Bake in oven until edges begin to turn lightly brown.
 
Then bake on other side. 
 
When nicely golden brown on both sides, potato galettes are ready to be served.
 
Fill up little glasses up to 2/3 or serve 2 big tablespoons of cream of cucumber on a plate, accompanied by one or a few potato galettes. 
 Mint leaves
Garnish with a bit of mint leaves.