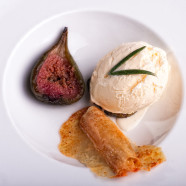 A delicate and sweet dessert to start the new season.
serves 4
Fig leaf milk
3 healthy fig leaves
750 ml of fresh cream (Crème Fraiche liquid)
250 ml of whole milk

Coarsely chop the fig leaves. In a casserole, add the milk, the cream and the chopped fig leaves.  Once the liquid is boiling, remove from fire and let steep for 30 minutes.
Let stand / 30 minutes
Then strain and set aside.
Fig leaf icecream:
5 egg yolks
120 grams of Acacia honey

Whip the egg yolks and the honey until the mixture is pale, frothy and creamy.
Gently pour the fig leaf milk on the egg and honey mixture, while continuously stirring.
Preparation time / 1 hour
Low fire / 10 minutes
Set over a low fire, and stir gently with a wooden spoon, until mixture thickens.
Large bowl filled with ice water and ice cubes.
Once the mixture has thickened, remove from fire and set the casserole in the bowl of ice water to cool it down.
Let the mixture continue to cool in the refrigerator.
Tip: The mixture should be very cold before putting it into the ice cream maker.
Once completely refrigerated process the mixture in the ice cream maker till firm and set. Set aside in freezer.
preheat oven 180°C.
Roasted Figs
4 nice fresh purple figs

Slice figs in two halfs.
A bit of butter to grease the parchment paper
Spread the sliced figs on baking sheet on the buttered parchment paper.
1 tbsp of honey
Drizzle honey over figs
Bake in oven 15 minutes.
Preparation time /  5 minutes
Oven temperature / 180 C – 15 minutes
Half way through the baking time, turn over the figs and finish baking. The figs will remain juicy and become caramelized.
Almond Filo Pastry Roll and Rosemary Honey
1 sheet of brick dough
60 grams of softened butter

Cut brick pastry dough into 2 strips each 7 cm wide.  Butter both sides of each strip of dough.
60 grams of rosemary scented honey
Then spread honey on one side of the strips.
80 grams of ground/powdered almonds
Dust with powdered almonds.
Cut each strip into 3 even rectangles.
1 sprig of rosemary (leaves removed)
Place 4 leaves of rosemary on each rectangle.
Then roll up each rectangle as if to form a little tube.
20 grams of butter to grease parchment paper
Place the little rolls on a baking sheet which has been covered with buttered parchment paper.
1 tbsp of rosemary scented honey
Drizzle with a bit of rosemary scented honey.
Preparation time / 10 minutes
Oven temperature / 180 C – 15 minutes
Bake in oven approximately 12 minutes, until rolls are nicely golden.
The dessert:
Fig Leaf Icecream
Roasted Figs
Almond Filo Pastry Rolls and Rosemary Honey 
One scoop of our fig leaf icecream decorated by some roasted figs and one or two Almond rolls – served on a plate.