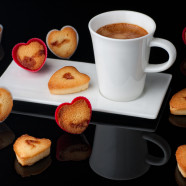 The heart shaped madeleines are the perfect little surprise on a Valentine's Day
8 pieces or depending on the size of muffin pans
3 eggs
1/2 cup of sugar
 Whisk the eggs and the sugar with a mixer (with whisk attachment preferably) until foamy.
1/2 cup of flour
Add the flour slowly while stirring continously.
4 1/2 tbs of melted butter
3 tsp orange flower water
Add the melted butter and the orange flower water
1 ½ Tbs butter to grease the heart-shaped muffin pans (about 2 inches wide, 1 inch high or more smaller shaped muffin pans).
Grease the muffin pans well. Fill each mold about 3/4 full with the mixture.
1/3 cup apricot or cherry jam
Place one tsp well filled with the jam in the middle of the mixture. With the tip of a knife form jam into a heart.
1 hour resting
Place the heart-shaped muffin pans filled witth the mixture in the refrigerator for about an hour.
Preheat the oven to 350°F.
Allow 15 min preparation time
350 °F / 15 à 20 min
Place the madeleines in the pre-heated oven, for about 15 min, until the edges are golden.
Remove the madeleines from the oven, place them on a rack to cool.