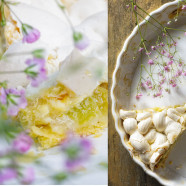 The cake is so delicious, the dough remains crunchy, the meringue soft and crispy with the rhubarb neither sour nor too sweet – simply indescribable!
∅ 24 cm serving 6
Prepare the day before :


Shortcrust


90gr of butter
Take butter out of fridge and allow to soften for about 30 min prior to using, it should still be of a firm consistence but not hard.
175 gr flour (of type 45)
pinch of salt
50 ml clear water
Combine flour, butter (pieces) and cold water in a bowl, using your hands speedy mix moving from outside to inside (it is important to work quickly otherwise the dough will be too flimsy!).
Time to prepare / 10min
allow to rest for 24hrs
Mix ingredients to make a chunky dough, then form to a ball and wrap into cling film, allow to rest in fridge for 24hrs.

The next day :


6 stalks of rhubarb
Peel rhubarb, cut off end pieces and remove strings, then cut into pieces of 1cm.
3 tablespoons of sugar
Combine rhubarb and sugar in a bowl and set aside at least 15 min.
Time to prepare / 5 min
allow to rest / 15 min
Cake
20gr of butter to grease
Grease cake pan (porcelain, _ 24 cm / 3,5 cm height).
shortcrust (remove from fridge 1h prior to using)1 hand full of flour
Sprinkle flour on working surface, then using a rolling ping spread dough into a circle (35 cm) with a strength of 4 mm.
Put pastry dough into the greased cake pan and carefully press in to the edges.
Using a fork pinch dough all over.
Then, using a knife, cut off excess dough.
Preheat oven to 180°C.
3 tbls brown sugar
4 tbls ground almonds*
Sprinkle pastry dough with brown sugar and ground almonds.
pieces of rhubarb
Using your hands squeeze juice out of rhubarb pieces, then evenly spread on to pastry dough.
Time to prepare /15 min
180°C / baking time 30 min
Bake cake in oven for 30 min.
The pudding
1 whole egg
90ml liquid sour cream (creme fraiche)
2 tbls vanilla sugar**
Mix creme fraiche, egg and sugar in a bowl to a homogenous, creamy matter.
Time to prepare / 5 min
After 30 min take baked pastry dough with a golden brown edge out of oven and pour creme on top.
180°C / 30 min
Put cake back in the oven and bake for another 30 min.
Meringue
3 egg white
90 gr white sugar
90 gr powdered sugar
Beat egg white, as soon as it starts getting foamy mix in both kinds of sugar and keep beating till it becomes a white, elastic dough.
Time to prepare / 10min
Take cake out of oven and lower temperature to 150°C while keeping the door a crack wide open for 3min, then close again.
150°C / 30 min
Using a spatula cover cake with meringue matter and bake 30min at 150°C, take out of oven as soon as meringue is crisp and has a golden brown color.
Allow to cool down before serving
The recipe may seem a bit complicated at first but if you slowly follow each step you will be awarded a wonderful rhubarb cake.
* If no ground almonds at hand you can also use 60gr of peeled almonds instead and mix them.
**Trick (vanilla sugar): keep sugar (1kg) in a closed container together with a vanilla bean; sugar will assume flavor of vanilla and will last a few weeks (in a closed container in the cupboard)